Summer Reading for Serious Procrastinators and Other Happy People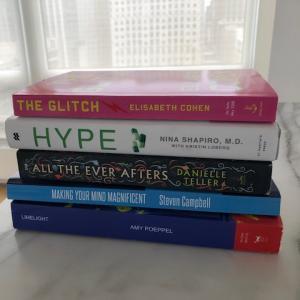 Procrastination is a part of the writing life. All writers have their favorite dodges for the blank page. I have not one, but two, preferred methods of goldbricking. First, organizing! There's always a closet or drawer that needs arranging – or re-arranging. If not, I allow myself to be sucked into the black hole of the Instagram account of The Home Edit. Try it, you'll like it.
My second preferred method involves stalking and stocking my personal library. It's like when there's a hurricane bearing down on the East coast and the grocery shelves are in the process of being wiped clean. I'm afraid if I don't always have food and water in the form of a pile of "to-be-read" books bedside, I'll starve to death.
So, when a good friend emailed, "I need more to read!" My response was, well, you've come to the right place! I would love to spend an hour or so updating my personal website with a list of the reading I've scavenged to stave off starvation in the face of a dearth of books disaster.
PSA before you start in on these lists: You will find fiction and non-fiction, beach reads and literature, books that entertain and those that edify. What you won't find is anything dark, apocalyptic or hopeless. No Handmaid's Tales here. I'm looking to be delighted, distracted, engrossed and inspired. The arts – books, films, television – have, it seems decided not to produce too much comforting or inspiring content these days. Give me Parenthood and Friday Night Lights, Laurie Colwin's Home Cooking, Julia Glass's A House Among the Trees, lots of Louise Penny, and Rear Window. And, if you're into that, here's my admittedly eclectic and eccentric list of recent and future reads… 
The entire oeuvre of Beth Gutcheon… Over the last six months, I read for the second time all 11 of Beth Gutcheon's novels, beginning with The New Girls, a highly readable entry in the time-honored formula of five young women meet at prep school and we follow their lives through the years, in this case, through the sixties. Don't think "highly readable" is damning with faint praise. Quite the opposite. I'd say I start and can't finish two out of three novels these days. This will firmly hold your attention – and you'll like it. The novels that followed New Girls are equally engaging. Leeway Cottage is a particular favorite, and Gutcheon's latest, The Affliction, is an entry from my favorite genre, the mystery. It's a dark hearted cozy, again set at a prep school. 
I've also dispatched the latest from some of my favorite mystery writers. Twisted Prey by John Sandford is the 28th featuring his former police detective, now federal marshal, Lucas Davenport, amidst a cast of murderous politicians and psychopaths or – is that redundant? Maybe murderous politicians/psychopaths. In The Punishment She Deserves, Elizabeth George returns to the top of her form as a master of the procedural -- after backsliding in her previous book. Here, with a story that's complex and suspenseful but never so tangled your attention flags, which is important because it's 700 pages.  Finally, I love Jonathan Kellerman, but in his latest, Night Moves, the story comes off the rails a bit. Kellerman's mysteries featuring Detective Milo Sturgis and psychologist Alex Delaware have a life of their own because readers have such a history with them at this point, but we deserve more. Worth your time, despite this. Or go back and read one of his earlier efforts.
I am not a serious consumer of self-help books, too much of a skeptic. However… I've not only recommended Steven Campbell's Making Your Mind Magnificent to numerous friends but have gifted it to at least three people in the last month. I'm apt to go into tailspins of negative thinking – it's the Irish in me! – and this book is like Brain Science for Dummies with a strong hit of how-to that's really helpful. It really is all in your head.
There's nothing I like more in a novel than the machinations of a group of mothers at the nursery school gate. If your taste runs in that direction, check out Mrs. by Caitlin Macy. It owes its success to its good heart, as well as its portrayal of Upper East Side status competition and angst-y parenting. Parenting takes more of a backseat in The Queen of Hearts, which explores friendship, betrayal and secrets among former medical school classmates now triaging children, husbands, a pediatric cardiology practice and a career in trauma surgery in a first novel from emergency medicine physician Kimmery Martin. Rated HE for Highly Enjoyable. Class Mom by Laurie Gelman was on a lot of must-read lists last summer. Not sure why I was slow to pick it up -- it has parenting, the PTA, "allergy moms," social climbing, "mean moms," the return of a high school crush now middle-aged, and emails, love the emails. If you've ever volunteered at your child's school in any capacity, you will laugh out loud in recognition.
Now, here's what's to be read this summer:
The Glitch by Elisabeth Cohen, wherein a successful tech executive leans in so far, she falls over. Apparently, Cohen was inspired by how alien she found the publicly reported work experiences of Sheryl Steinberg and Marissa Mayer as compared to her own. I totally relate already.
I really enjoyed Amy Poeppel's Small Admissions last summer and am looking forward to this year's Limelight, in which she explores three passions in her life: Manhattan, theatre and family.
Having lived in Silicon Valley for 27 years, I am a sucker for its stories, so of course, Sophia of Silicon Valley by Anna Yen made the cut. Fingers crossed, because nobody has really written a definitive story of the Valley's booms, busts, and big paychecks.
Both excited and trepidatious about The Mars Room from Rachel Kushner. I'm new to Kushner's work, but she seems to stand firmly in the space of Tom Wolfe: a novelist grounded in exhaustive research into her subject, in this case, a California women's prison. Need to be in the mood for this one.
A new book of short stories from Lauren Groff, Florida. LOVE her work. I find short stories well-suited to the summer months.  
Favorite Fiona Davis has a new novel, The Masterpiece, in which, as her previous books did, a Manhattan landmark is one of the characters: here it's the Grand Central Terminal.  And if you haven't discovered her two previous novels, The Dollhouse, based on the Barbizon Hotel, and The Address, based on the Dakota apartment house, add them to your list. They're great book club books.
All the Ever Afters by Danielle Teller is a re-telling of the Cinderella story from the perspective of the "evil" stepmother. Hmmm… I'll try to be sympathetic.
Looking forward to HYPE: A Doctor's Guide to Medical Myths, Exaggerated Claims and Bad Advice – How to Tell What's Real and What's Not by Nina Shapiro, M.D., with Kristin Loberg. On the one hand, cutting-edge and alternative medicine interest me and I think the establishment is way too slow to get on those bandwagons, for good and bad reasons. On the other hand, when I first sought out an acupuncturist, I picked the one that was an M.D. on staff at Stanford University Hospital. Interested to read Shapiro's and Loberg's take on diet, detoxes, supplements, caffeine, in-home genetic testing, and alternative treatments.
The Female Persuasion by Meg Wolitzer because I love her books, particularly The Interestings. Also interested, because I'm both curious about and outraged at what has happened to feminism and I'm hoping for some literary clues.
In Laura & Emma by Kate Greathead, a wealthy young woman raises her daughter born of a one-night stand. As the mother of an only daughter, I'm a sucker for mother/daughter stories.
I'm also late to the game for Down the River Unto the Sea from the brilliant Walter Mosley. Mosley gets inside your head about race, guilt, rights, and wrong. This book is dedicated to Medgar, Malcolm, and Martin. BTW, he's written more than 50 books, so you're welcome, you now have your summer reading totally covered. Personal favorite: Devil in a Blue Dress, one of his Easy Rawlins mysteries, which was also made into a movie with Denzel Washington.
If you're a fan of history, my husband and I have been listening to the last volume of William Manchester's biography of Winston Churchill -- The Last Lion: Winston Spencer Churchill: Defender of the Realm, 1940-1965. Fascinating, fascinating, fascinating. Surprisingly relevant to current world affairs and, at the same time, oddly reassuring that not much has changed. Funny aside: like Trump, he has nicknames for his opponents and enemies. Hitler was always "that housepainter."
In closing, for a highly amusing explanation of why procrastinators procrastinate, check out Tim Urban's Wait But Why post on the subject and enjoy the meet-up of an Instant Gratification Monkey, Richard Feynmann talking about String Theory, and reorganizing to-do lists (a new procrastination candidate!). Then take a walk to your favorite independent book store. We don't have one in downtown Chicago anymore. A circumstance I take personally and not kindly. Part of what's wrong in the world.