Books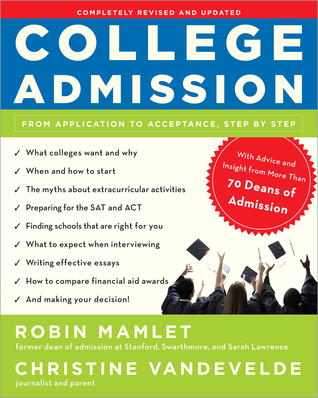 ORDER FROM
College Admission:
From Application to Acceptance Step by Step
"A new college admissions bible [...]Here is a new book jam-packed with information on every aspect of the admissions process [...] College Admission does what the title promises, in an accessible format that taps the knowledge and experience of admissions directors and others involved in the process."-- The Washington Post

"This guide can be beneficial to students of any background and at any stage of their college search process… Families that look to this guidebook will have a balanced sense of how to navigate the college search without feeling overwhelmed. With their new knowledge, students will traverse the college application process with a sense of ease."-- National Association for College Admission Counseling 
"It's easily the best college admissions book out there."-- College admissions counselor

"…a real game changer" -- StudentAdvisor
"If you have a student that is starting their junior or senior year... this is a MUST read!"-- Parent of college applicant
I wanted to officially thank you for the wonderful book. My oldest daughter is a high school senior. I bought your book in the summer of her sophomore year, wanting to learn everything I could about the college search and application process from one source. Your book was my guide through the entire process and helped me deal with her drama, my fears, and the nonsense advice I received from a questionable college adviser. I followed your advice step by step and can declare that our mission was accomplished; my daughter was accepted to one of her top 3 schools and received a very nice scholarship. Thank you!!!! -- Parent of Class of 2017 applicant
A few years ago, my daughter was applying to college and it was obvious that it wasn't the same application process I had gone through some years earlier. I'm a journalist, so my response when I want to understand something is to over-research it. But when I went to the bookstore and the library to find a good book about applying to college, I found not one comprehensive book written by a reliable expert. There were lots of "thin edge of the wedge books" and idiosyncratic "how-to's" about essay-writing and test-taking. And then there were the contemptuous "secret sauce" books that promised a bag of tricks to getting admitted with titles like "What the colleges wont' tell you…" 
I complained loudly to Robin Mamlet, then dean of admission at Stanford University, and, to my surprise, she countered, "Want to write a book together?"  I spent the next two years interviewing more than 70 deans of admission and more than 100 other experts in the field of higher education. And I was able to write the book that I wish I had had when my daughter was applying to college. A 400+-page guide that answers the questions of students and parents from the moment they begin to think about college through loading up the car to head to campus.
---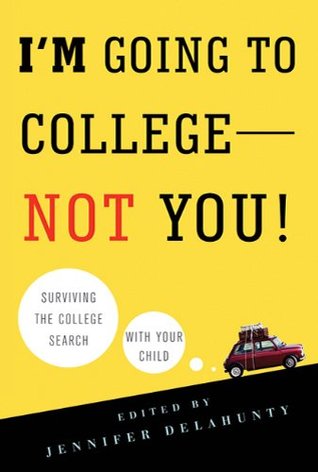 ORDER FROM
I'm Going to College… Not You!
"A great guide and must-read for any prospective parent going through the power and powerlessness of their child's college search."-- Jamie Lee Curtis, actress, children's book author, mother of a recent college graduate
"Among the contributors, reflecting on everything from the beginning application process through move-in day, are Anna Quindlen and Jane Hamilton as well as admissions directors of Smith and Colby colleges. Parents will enjoy the humor, drama, and poignancy of this collection."--Booklist
"… a thoughtful collection of slices-of-life, at once personal and universal. Any parent struggling to make sense of the admissions process is likely to find solace in this reassuring support-group-on-paper."-- The New York Times
When Kenyon College dean of admission Jennifer Delahunty called and asked me to be a contributor to this anthology, I sat down and wrote "A Cautionary Tale" in a day. It's the story of my daughter's application process to private middle schools in Silicon Valley, where, at the time, the admit rate was similar to that of selective colleges like University of Chicago and Duke. It was a mortifying preview of college admission frenzy and a humbling parenting lesson for me. When the college application process rolled around four years later, I was ready to walk the walk of letting it be my daughter's project and I had my mantra ready, "The Unabomber went to Harvard…"